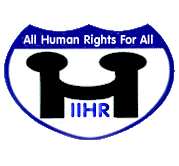 Indian Institute Of Human Rights (IIHR), New Delhi invites applications for admission to the Post Graduate Programme in Human Rights (PGPHR) (Distance Learning Programme) courses for academic year 2013.
Admission will be offered on the basis of merit obtained in the entrance test, conducted by the institute.
The two years Post Graduate Programme in Human Rights being conducted through correspondence has been designed for meeting the growing needs of experts in the field of human rights, civil liberties, international humanitarian issues, refugee rights and laws, disaster and emergency relief, apartheid and racial discrimination, drug abuse, judicial activism and global and regional perspectives of human rights. The admissions for the two years Post Graduate Diploma Programme in Human Rights commences every year for June and December sessions for all such persons who have successfully obtained their Bachelor's Degree or an equivalent qualification in any discipline.
Eligibility:
Graduation (Arts / Science / Commerce / Engineering / Agriculture / Medicine / Law / Pharmacy).
Duration :
Two years.
Examination Centres (for Indian Students) :
Conducted every year in June and December at Ahmedabad, Allahabad, Aurangabad, Bhubaneshwar, Bangalore, Baramulla, Bareilly, Bhopal, Bombay, Calcutta, Chandigarh, New Delhi, Dehradun, Guwahati, Hyderabad, Imphal, Jaipur, Jammu, Jamshedpur, Kota, Lucknow, Chennai, Muzaffarpur, Nagpur, Goa, Patna, Port Blair, Pune, Raipur, Ranchi, Srinagar, Shimla, Trivandrum, Udaipur, Varanasi and Vishakhapatnam.
Examination Centre (for Foreign Students) :
For the benefit of foreign students examinations can be conducted in their respective countries at Embassies, High Commissions, Universities, Colleges, Schools and other public places once we receive permission from the respective authorities.
Mode of Teaching:
Through Distance Learning (DL) / Correspondence.
How To Apply:
Prospectus And Admission Form: Available on payment of Rs.50/- (fifty) by Cash from the institute's Counter or by sending MO/IPO/Bank Draft of Rs.50/-(fifty) in the name of "Indian Institute of Human Rights" payable at New Delhi along with complete postal address of the applicant.